Entertainment
8 Tips To Reduce The Stress Of Corporate Event Planning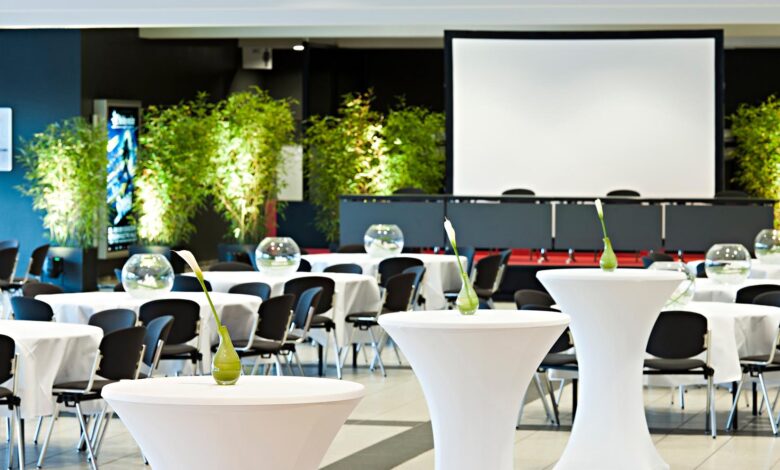 Corporate event planning comes with its unique set of challenges. Individuals with a high level of organizational skills are required for such events. Event planners face various challenges, including a limited budget, delay in order delivery, insufficient planning time, and event technology.
Some of these difficulties are predictable, while others are unexpected. Balancing various tasks, such as setting up your event website, completing registrations and ticketing without incidents, and setting up AV, mobile photo booths, and so on at the venue to receive feedback, can be difficult.
Even professional corporate event planners face a number of challenges. Unexpected challenges necessitate that event planners understand common event-planning issues. This will prepare a person for any mishaps that may occur.
Below are the 7 questions that will help you plan and manage a stress-free corporate event:
What is the purpose of doing the event?
What does my primary audience include?
What is the budget allocated?
How can I implement my ideas?
On what basis should I assign roles for the particular event?
What should be my backup plan?
What extra can I offer the client from the management side?
Once you figure out the answers to the above question the blueprint for your event is ready. Now you just have to start allocating resources to its optimum level and begin with the execution.
Here are five tips to help you manage the stress of corporate event planning.
1. Budget Management
A budget is required before implementing your corporate event concept. Many planners make the error of underestimating costs. Cost underestimation is a common mistake. Take into account the cost of food, venue, and lodging. Event planners can bargain for a better deal when allocating resources.
Strive to close the gap between the client's budget and expectations from the start. It is critical to inform the client that event budgets are treated as working draughts. This means that we can change our minds at any time. Planners must create a buffer zone to ensure the event takes place even if the initial budget is exhausted.
It is unusual to come across an event with an obscene amount of money. A planner must be prepared to make cost-cutting decisions. Take note of the areas that will be most important to guests. Areas that will be less appealing to guests can be renegotiated.
2. Good Communication
It is critical to keep everyone involved in the planning informed. Communication must be efficient and up-to-date.
To avoid being misunderstandings, the planner must aim for effective and clear communication. Productivity is increased by effective communication. Effective communication eliminates the need for clarification. Because the instructions are clear, the staff devotes less time to seeking clarification.
The effective communication of objectives to be achieved boosts employee morale. People will want to come to work. Furthermore, effective communication leads to the growth of the event planning team. When expectations are set, the team works better together.
3. Remembering the Company's Vision
The event's organizers would like to say something about them to their employees and the general public throughout the event. To avoid sending the wrong message, the Founder or Director must effectively communicate their vision as an event is a marketing opportunity. 
The planner must recognize the what and how of the company's marketing position. Again, an open communication line can help in eliminating the more unfavorable ideas at the bud.. You can use your corporate event to spread a positive message in a variety of ways. You could, for example, organise an eco-friendly corporate event.
4. Establishing a Timetable
A timetable will keep the event's planning on track. A timetable aids in ensuring that everyone fulfils their responsibilities. The planning process can easily fall behind without a timeline.
Typically, corporate event planning should start at least a month in advance. Having a workable schedule eliminates the possibility of a last-minute rush. Rushing to the event can result in missing out on small ideas that could be crucial to the event.
Planners must schedule time for brainstorming ahead of time. It is important to note that there should be room for minor flaws.
5. Attendee-friendly location
Many event planners need help selecting a venue that will satisfy their guests. You want a location that the client will enjoy and value. Guests require a setting that will leave them with positive memories and new experiences.
In terms of corporate events, employees expect their companies to plan an event of their type. This gesture of the employers makes the employees feel important. So, it becomes the corporate event planners' responsibility to deliver what exactly is expected by the employees keeping in mind company constraints.
To achieve the ideal venue, it is critical to involve some of the guests. Guests will be able to enjoy themselves because they were involved in the selection process. It is critical to consider your financial situation. Look for a venue that will complement the event's theme.
The proximity of the venue, for example, should be noticed. Early booking should occur after locating the ideal venue. Being ahead of other clients who may be planning is always advantageous.
6. Invite the Right People
The fear of not inviting someone is usually the most difficult aspect of creating a guest list. To avoid such scenarios, make a guest list ahead of time.
Make a list of the people you want to invite. Only inviting a guest will be avoided if the checklist is followed. Determine your target audience ahead of time and make sure it is made up of the right people.
Participants who are unlikely to add value to your event should be avoided. The selection of speakers, ambiance, venue, and entertainment is influenced by the presence of a relevant audience.
7. Have Some Fun!
Corporate guests often dislike long PowerPoint presentations, so keep them to a minimum. Delivering the same information in a different and more interesting way can be more challenging and engaging for the audience. In addition, the entertainment department must be up to par. You can also throw a themed office party to amp up the fun factor.
8. Client/Guest Feedback System
It is critical to collect feedback from clients and attendees about how they felt about the event. Although video testimonials can be recorded, the most honest feedback can be gathered through an anonymous Google form submission.
Lastly, A well-organized corporate event can provide numerous advantages. It can generate free publicity, boost employee morale, and develop marketing buzz. On the other hand, a poorly organized event can have dreadful consequences for the company and cause great distress.
For more valuable information visit this website