Travel
All You Need To Know About Valley Of Flower Trek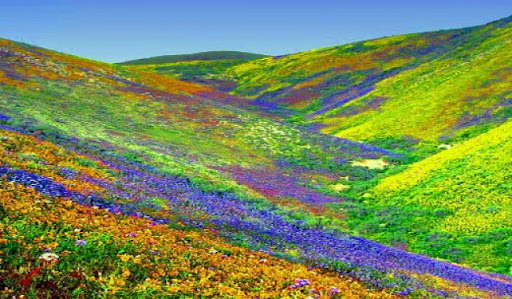 Valley Of Flower Trek! The title, 'UNESCO World Heritage Site' has been given to this valley. This is one of the best trekking sites where tourists can trek in the monsoons. Here tourists will find 300 different varieties of flowers. This valley is spread over an area of 87 square kilometers. This valley is located near the Nanda Devi Biosphere Reserve. In the route of the valley, tourists can see the magnificent waterfalls, marvellous mountains etc.The main valley in the National Park consists of only 5 kilometers.
It is recommended to trek in this valley in the monsoons. Its maximum altitude is about 14,200 ft. The suitable time to visit this place is between June to October. The trek is of 8 days:-
Day 1- Reach to Delhi, and from there reach Dehradun or Haridwar
Day 2- From Haridwar, go to Joshimath and from there Govindghat
Day 3- From Govindghat we have to go Ghangaria, from where our trekking starts
Day 4- Do trek in Ghangaria
Day 5- From Ghangaria to Hemkund Sahib, Hemkund Sahib is optional
Day 6- From Ghangaria to Govindghat
Day 7- From Govindghat to Badrinath and from Badrinath to Mana. Badrinath and Mana is optional
Day 8- From Govindghat to Joshimath and from Joshimath to Haridwar or Dehradun. Have to do an overnight journey by train or bus to reach Delhi.
Things to do in this valley
This valley is open for tourists from the starting of June to the end of October. During these months tourists will get to see the windflowers like poppies, orchids, marigolds, daisies etc. Apart from the beautiful valley of flowers, there are also many other nature walks and hikes in this region, which tourists must enjoy. This park is not only the home of beautiful flowers but also the home of rare and endangered species animals like Tigers, snow leopard, Asiatic black bear, brown bear, red fox, musk deer and blue sheep. While visiting this park, tourists also visit the Nanda Devi Biosphere Reserve which is at the altitude of 25,643 ft. Its mountain peak provides a breathtaking view of the flower valley.
Where to do camp
Camping is not allowed inside the National Park. tourists can book their stay at 'Blue Poppy Holidays tented camp', Ghangaria. In this stayhouse, each tent has a double bed, a flash toilet, proper electricity and a sink. But there is a problem that there is no running water. Water needs to be kept in a bucket. In this place, there is also a mess which serves local and organic dishes.
Travel Tips of Flower Valley
In the route of this valley there were only few toilets, none is in the valley
The restaurants in the route serve the basic Indian culture food.
There are also some shops on the route on the way from Ghangaria to HemKund.
The network coverage will disappear when we leave Govindghat.
A checkpoint of the forest department will be located from the distance of 1 kilometer from Ghangaria. Here visitors have to pay an entrance fee, which is expensive for tourists not for Indian people.
It is recommended to keep plenty of clothes due to the rainy season. Other useful items should also be kept like, flashlight, toiletries, towel, first-aid-kit, plastic bags, sunscreen, water bottles etc.
Other Best Hikes
Apart from Flower Valley Trek, many other treks have also opened around the park which attracts the tourists and they are:-
Kunth Khal Trek
This trek is the original route of the valley of the flowers. It has a 15 km route from Kunthkhal to Hanuman Chatti. This trekking route is so delightful and takes us through the magnificent waterfalls,glaciers, gorges and rivers.
Lata Village to Dibrugheta
This trek is a 21 km trek and it takes us through the beautiful terraced fields, magnificent grassy meadows which are full of rare wildflower species.
Chenab Valley Trek
This trek is a 60 km trek. It is a 9 day adventure through the Chenab Valley. In the way, visitors will get to see the variety of wildflowers like orchids, primulas, marigolds, anemones and daisies, before reaching to the final destination i.e. Dhar Kharak. This trek is suitable for non-experienced trekkers.
Conclusion
So here are all the details of the flower valley trek. Everyone in their lifetime must go for this trek because this trek provides us with amazing and mesmerizing experiences with beautiful scenic views. This trek difficulty level is easy and will be done by experienced as well as non-experienced trekkers.
For more articles visit this website